Today marks the 25th anniversary of the PlayStation 1 as it was first launched in Japan on 3rd December, 1994. And that is why I dedicate today's entry to the console itself and to those top-selling games that once become popular and played by gamers all over the world.
The PlayStation 1, also know as PS1 and PSX, is one of the most memorable video game consoles ever. I still remember in that 1995 year, when I played it for the first time, how amazed I was about the graphics and the quality of the games. There was nothing like it at that time. The other console I used to play was a Game Boy of 1990 and, compared to it, Sony's console seemed to me like a device of another galaxy.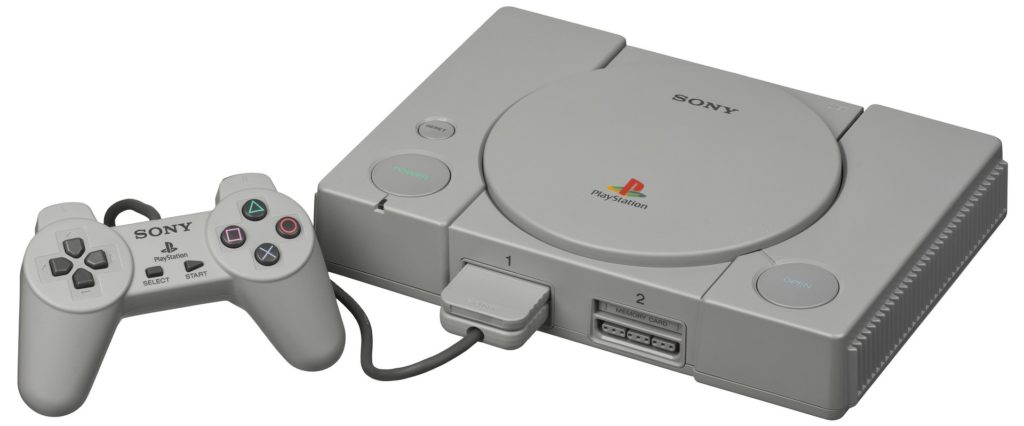 A bit of history
It all started with a broken contract with Nintendo in the late 1980s. Sony was entering in the video game market by partnering with Nintendo to develop a new disc-based console that was going to be called Super Nintendo. But this partnership was broken long before its launch.
Given this event, Sony computer engineer Ken Kutaragi proposed the idea of ​​entering the video game market completely. Sony at that time had the knowledge, the budget and the technology needed to be able to develop its own video game console. But no department, not even the then-current president Norio Ohga, seemed to like the idea.
After much insistence, this idea became a reality within the Sony Music division, and it was not until November 1993 that the project would have its own section aimed at the development and research of the video game business: Sony Computer Entertainment Inc. (SCEI or SCE).
As a result of these years of hard work and dedication in December 3, 1994 Sony launched the PlayStation 1 in Japan with tremendous success. However, it was not only the console itself that attracted millions of households around the world and purchase it. Much of its success is due the facilities that Sony offered to video game developers so that they could test themselves the benefits of its new console: its technical capacity and the use of the CD as a means of distribution and reading of video games. This caused a call effect among not only large distributors but also medium and small developers. Over the time, the PlayStation achieved to get a very extensive catalog of video games. And it was mostly thanks to this that, in the end, Sony managed to catapult the console as a best seller.
In total, Sony has sold more than 102.49 million PlayStation 1 units, and shipped more than 962 million PS1 games worldwide, making it the second most popular and sold console of Sony, after the PlayStation 2. Therefore, we can say it is one of the most played and memorable consoles of all time.
Best-selling PlayStation 1 games
As said, an important part of the success of the PlayStation 1 was due to the games that were developed to play on it. A wide game catalog enabled Sony's console to offer entertainment to a large number of people of different tastes, from children to adults.
To commemorate this 25th anniversary and spread the word to young generations about the games that were once considered the best of their time in terms of gameplay and graphics, as well as a resounding success in sales, I have made and uploaded the following video to my YouTube account. Play it!
Of course, this is just a top 10 arranged by number of sales. But there are other very good games that, although they did not become a best seller, they were highly regarded by critics. Here I present you a more complete list of all the PS1 games that have contributed to the success of the console.
| No. | Title | Release date | Sales |
| --- | --- | --- | --- |
| 1 | Gran Turismo | December 23, 1997 | 10,850,000 |
| 2 | Final Fantasy VII | January 31, 1997 | 10,022,228 |
| 3 | Gran Turismo 2 | December 11, 1999 | 9,370,000 |
| 4 | Final Fantasy VIII | February 11, 1999 | 8,600,000 |
| 5 | Tekken 3 | March 26, 1998 | 8,300,000 |
| 6 | Harry Potter and the Philosopher's Stone | November 15, 2001 | 8,000,000 |
| 7 | Tomb Raider | October 25, 1996 | 7,100,000 |
| 8 | Crash Bandicoot | September 9, 1996 | 6,820,000 |
| 9 | Tomb Raider II | October 31, 1997 | 6,800,000 |
| 10 | Metal Gear Solid | September 3, 1998 | 6,000,000 |
| 11 | Tomb Raider III | November 20, 1998 | 5,900,000 |
| 12 | Tekken 2 | March 29, 1996 | 5,700,000 |
| 13 | Crash Bandicoot: Warped | October 31, 1998 | 5,700,000 |
| 14 | Final Fantasy IX | July 7, 2000 | 5,500,000 |
| 15 | Crash Bandicoot 2: Cortex Strikes Back | November 5, 1997 | 5,170,000 |
| 16 | Resident Evil | March 22, 1996 | 5,080,000 |
| 17 | Resident Evil 2 | January 21, 1998 | 4,960,000 |
| 18 | Spyro the Dragon | September 9, 1998 | 4,832,145 |
| 19 | Tomb Raider: The Last Revelation | November 15, 1999 | 4,700,000 |
| 20 | Dragon Quest VII | August 26, 2000 | 4,110,000 |
| 21 | Rayman | September 1, 1995 | 4,000,000 |
| 22 | Oddworld: Abe's Oddysee | September 19, 1997 | 3,500,000 |
| 23 | Resident Evil 3: Nemesis | September 22, 1999 | 3,500,000 |
| 24 | Tony Hawk's Pro Skater | August 31, 1999 | 3,500,000 |
| 25 | Spyro 2: Ripto's Rage | November 2, 1999 | 3,451,064 |
| 26 | Frogger | September 30, 1997 | 3,370,000 |
| 27 | Spyro: Year of the Dragon | October 24, 2000 | 3,283,077 |
| 28 | Driver | June 30, 1999 | 3,220,000 |
| 29 | Tony Hawk's Pro Skater 2 | September 20, 2000 | 3,150,000 |
| 30 | Croc: Legend of the Gobbos | September 29, 1997 | 3,000,000 |
| 31 | Driver 2 | November 13, 2000 | 2,850,000 |
| 32 | Dino Crisis | July 1, 1999 | 2,400,000 |
| 33 | Final Fantasy Tactics | June 20, 1997 | 2,270,000 |
| 34 | Namco Museum Vol. 3 | June 21, 1996 | 2,240,000 |
| 35 | Air Combat | June 30, 1995 | 2,230,000 |
| 36 | WWF War Zone | July 14, 1998 | 2,200,000 |
| 37 | Crash Team Racing | October 19, 1999 | 2,200,000 |
| 38 | Hot Shots Golf | July 17, 1997 | 2,130,000 |
| 39 | Tony Hawk's Pro Skater 3 | October 29, 2001 | 2,110,000 |
| 40 | Mortal Kombat Trilogy | October 10, 1996 | 2,010,000 |
| 41 | Derby Stallion | July 17, 1997 | 2,000,000 |
| 42 | Silent Hill | January 31, 1999 | 2,000,000 |
| 43 | Parasite Eve | March 29, 1998 | 1,940,000 |
| 44 | WWF SmackDown! | March 2, 2000 | 1,920,000 |
| 45 | Crash Bash | November 6, 2000 | 1,900,000 |
| 46 | WWF SmackDown! 2: Know Your Role | November 21, 2000 | 1,870,000 |
| 47 | Spider-Man | August 30, 2000 | 1,850,000 |
| 48 | Tetris Plus | September 6, 1996 | 1,770,000 |
| 49 | Syphon Filter | February 17, 1999 | 1,750,000 |
| 50 | Twisted Metal 2 | October 31, 1996 | 1,740,000 |
| 51 | 007: Tomorrow Never Dies | November 16, 1999 | 1,720,000 |
| 52 | Need for Speed III: Hot Pursuit | March 25, 1998 | 1,700,000 |
| 53 | Namco Museum Vol. 1 | November 22, 1995 | 1,650,000 |
| 54 | Medal of Honor | October 31, 1999 | 1,640,000 |
| 55 | A Bug's Life | November 18, 1998 | 1,500,000 |
| 56 | Chrono Cross | November 18, 1999 | 1,500,000 |
| 57 | Legacy of Kain: Soul Reaver | August 16, 1999 | 1,500,000 |
| 58 | Madden NFL 99 | July 31, 1998 | 1,500,000 |
| 59 | Madden NFL 2000 | July 31, 1999 | 1,480,000 |
| 60 | PaRappa the Rapper | December 6, 1996 | 1,470,000 |
| 61 | NFL GameDay 98 | July 31, 1997 | 1,470,000 |
| 62 | Rugrats: Search for Reptar | October 31, 1998 | 1,460,000 |
| 63 | Grand Theft Auto 2 | October 25, 1999 | 1,450,000 |
| 64 | Hot Shots Golf 2 | July 29, 1999 | 1,440,000 |
| 65 | Cool Boarders 3 | September 30, 1998 | 1,430,000 |
| 66 | Syphon Filter 2 | March 14, 2000 | 1,420,000 |
| 67 | Tomb Raider Chronicles | November 17, 2000 | 1,400,000 |
| 68 | Need for Speed: High Stakes | March 1, 1999 | 1,390,000 |
| 69 | Jet Moto 2 | October 31, 1997 | 1,310,000 |
| 70 | WCW Nitro | January 31, 1998 | 1,300,000 |
| 71 | Twisted Metal III | October 31, 1998 | 1,290,000 |
| 72 | Dance Dance Revolution | April 10, 1999 | 1,270,000 |
| 73 | Jet Moto | October 31, 1996 | 1,270,000 |
| 74 | Spec Ops: Stealth Patrol | June 5, 2000 | 1,270,000 |
| 75 | Madden NFL 98 | July 31, 1997 | 1,250,000 |
| 76 | The Legend of Dragoon | December 2, 1999 | 1,240,000 |
| 77 | Pac-Man World | October 12, 1999 | 1,240,000 |
| 78 | Dragon Quest IV | November 22, 2001 | 1,232,071 |
| 79 | Cool Boarders 2 | August 28, 1997 | 1,210,000 |
| 80 | Xenogears | February 11, 1998 | 1,209,479 |
| 81 | Dino Crisis 2 | September 13, 2000 | 1,200,000 |
| 82 | Yu-Gi-Oh! Forbidden Memories | December 9, 1999 | 1,200,000 |
| 83 | Monopoly | November 6, 1997 | 1,190,000 |
| 84 | Ace Combat 3: Electrosphere | May 27, 1999 | 1,164,000 |
| 85 | NASCAR 98 | November 17, 1997 | 1,160,000 |
| 86 | NBA Live 98 | November 30, 1997 | 1,150,000 |
| 87 | Chocobo's Mystery Dungeon | December 22, 1997 | 1,140,000 |
| 88 | NASCAR 99 | September 28, 1998 | 1,140,000 |
| 89 | Tales of Destiny | December 23, 1997 | 1,139,000 |
| 90 | NFL GameDay 99 | July 31, 1998 | 1,120,000 |
| 91 | Arc the Lad | June 30, 1995 | 1,100,000 |
| 92 | Devil Dice | June 18, 1998 | 1,100,000 |
| 93 | beatmania | October 1, 1998 | 1,100,000 |
| 94 | Derby Stallion 99 | September 30, 1999 | 1,100,000 |
| 95 | SaGa Frontier | July 11, 1997 | 1,095,226 |
| 96 | Star Ocean: The Second Story | July 30, 1998 | 1,094,000 |
| 97 | Ace Combat 2 | May 30, 1997 | 1,092,000 |
| 98 | Parasite Eve II | December 16, 1999 | 1,090,000 |
| 99 | 2Xtreme | November 6, 1996 | 1,090,000 |
| 100 | Test Drive 5 | September 30, 1998 | 1,080,000 |