Teleconferencing and when telecommuting implies the live exchange and mass articulation of information among several persons. The telecommunications systems that allow us to teleconference have existed from more than 35 years. But it was not until recently, and due to the COVID-19 pandemic, that employers and employees have opted use them. Is it important to pay attention to this strategy? Does it add any value to companies? Has it changed the way we teleconference compared to 35 years ago?
The systems that allow us to remotely work, telework, work from home, or teleconference were oversold in the past and even more nowadays. But first, we must understand its potential advantages and, of course, its disadvantages. As a good teleconferencing strategy that suits the needs of each company can led them to boost their overall productivity and the hapiness of employees.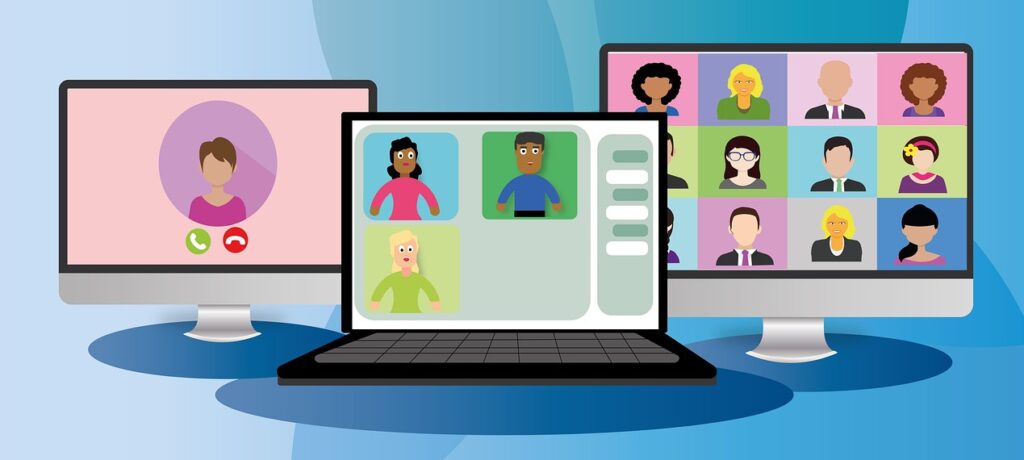 Teleconferencing as a Group Decision Support System
Johansen and Bullen, in their paper called "What to expect from teleconferencing", are right when they defend teleconferencing as a managerial support IS when it comes to making decisions. This is because these types of systems allow fast and easy communications and, as a result, a more efficient share of information, quickly decision making and rapid problem handling. Co-workers, customers, suppliers, stakeholders… all of them are reachable in no time. The article, for instance, explains how people, due to our social nature, seek for information primarily from colleagues before searching on other sources when they want to make up their minds about certain concerns. Additionally, geographical boundaries are no longer a problem when it comes to teamwork.
What has fundamentally changed in the last 35 years?
Technology, generally speaking, has dramatically changed since 1984 up to now, as well as teleconferencing systems. In 1984 teleconferencing was considered a managerial support tool that not many companies could afford. Nowadays, however, it is mostly considered as a commodity because of the large amount of organisations that offer this service. In fact, during this last decade the costs associated to it have been radically reduced, and this has led to teleconferencing tools not only being exponentially used by business firms, but also by regular people from their homes. Some teleconferencing tools, such as Skype or Google Talk, are indeed free of charge. Therefore, it could be said that it is more considered as a must-have tool rather than as a strategic movement that need careful planning and implementation.
It is worth mentioning that thanks to the increase of teleconferencing systems at homes the number of employees who telecommute is growing increasingly. And thanks to the fact that the use of these systems has been democratized to an individual level, and not only to a company level, they have become crucial for many employees to keep working during the coronavirus pandemic. And noe we do not talk any more about teleconferencig but instead about telecommuting, teleworking or working remotely.
It is essential to mention that nowadays teleconferencing tools are capable of offering high quality video and audio thanks to today's high Internet speeds, which was a major drawback in the past. However, the fact of losing valuable information transmitted through body language still worries.
One of the key points that the paper underlines is the importance of managers and employees to understand how teleconferencing systems can add value to the company and help increasing the overall productivity. Back in 1984 this was not very clear and that is why the article introduces its high level of usage as a misconception, because it was not really being as used as thought. Today, in contrast, many business people depend on these systems and the time that is spent on teleconferencing is definitively more than 20 hours per month. Additionally, there is no need to wait long to handle or discuss about certain topic that require immediate attention because teleconferencing permits to arrange meetings in a short period of time.
What has not changed during the last 35 years?
As the article says, one of the main reasons of managers when implementing teleconferencing systems used to be the cost savings from travelling. However, it also defends that these tools are not a travel substitution and, as we all know, business travels are still an important part of every company. Many organisations, which depend on their close relations with contacts or providers, still opt for traditional communications because teleconferencing could be said that narrows contacts and cools relations. Therefore, even if these systems have changed the way business communicates, businesspeople still travel and meet many contacts face-to-face.
What overall conclusion regarding change can be made?
The change has been dramatic. Back in 1984, the rate at which teleconferencing systems grew was quite slow. However, today's access to high speed bandwidth in both desktop and mobile devices has led to a huge increase of usage of these systems for business and general public as it makes possible financially feasible high quality transmissions.
Finally, it has to be said that even if teleconferencing can be considered a DSS, we do not notice the decision making process we go through when using these systems. But at least, instead of a solution to reduce costs associated with not travelling, nowadays teleconferencing systems are seen as tool to increase productivity, discussions and help making decisions.